2014 Fundraising events
The 2014 diary of events held to raise funds for Project Vernon was testimony to the determination and energies of a core team of dedicated supporters. Some events were exclusive to the Associations directly involved with Project Vernon.  Others were open to the public, so all support or participation provided was very warmly received.  For more information or fundraising opportunities considered for 2015, please contact the Project Team through the 'Contact' tab at the top of this page.
17 May 2014 – Divers at War Event at the Diving Museum.
This year, for the first time, The Diving Museum participated in the MUSEUMS AT NIGHT project. Just after sundown on 17th May the museum opened the doors to celebrate the achievements of wartime diving heroes. Film played a big part in the event. Inside the museum the atmosphere was infused with a ghostly haze and the chambers of the Victorian battery were lit by candlelight and torches (all safe electric ones!). Adding to the drama, some of the volunteers dressed in wartime kit and  film was projected on the outside of the museum during the evening. It was a night to remember. Visit the Diving Museum website here for directions to the museum.
Saturday 31 May 2014 – HMS COLLINGWOOD Field Gun Day.
Project Vernon manned a stall at the annual Royal Navy Field Gun Day at HMS COLLINGWOOD, Fareham, Hants. An excellent day out for the family.
18-21 April 2014: – Devizes to Westminster International Canoe Race.
Lieutenant Commander Richard 'Soapy, Watson Royal Navy  entered the Devizes to  Westminster International Canoe Race partnered  by Mark Campbell who kindly stepped in after Soapy's previous partner broke his arm.   Their aim was not only to complete the course within 24 hours but also to raise  money for Project Vernon  and Parkinsons UK.

The Devizes to Westminster International Canoe Race starts in Devizes, Wiltshire and finishes just downstream of Westminster Bridge in central London, opposite the Houses of Parliament. The race has been held annually over the Easter Weekend since 1948.
There were 77 portages along  the way. More details on the race itself can be found here.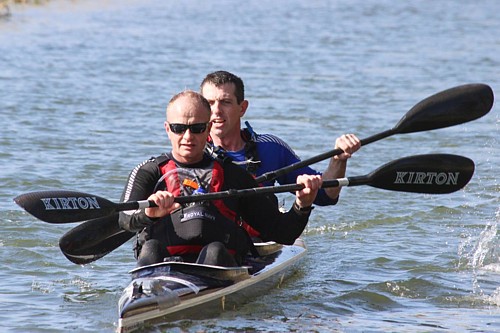 Soapy and Mark training at Dreweatts Lock, Marsh Benham earlier this month
The big day arrived and Soapy and Mark made excellent progress.  Below are a few photos of them at Newbury (34 miles into the race) negotiating locks and, by the looks of things, quite a strong tidal stream.
Click
here
for more details on how the event went